ARCs funded for research into National Priority Area of Healthy Ageing, Dementia, and Frailty
The NIHR has approved research plans for a consortium of Applied Research Collaborations (ARCs) led by NIHR ARC Wessex with ourselves NIHR ARC Greater Manchester, NIHR ARC Yorkshire & Humber and NIHR ARC South West Peninsula.
The research programme is focused on the health challenges facing our growing older population. The programme will support three multi-regional projects that are as much about staying well as finding better ways to care for and treat people in later life.
This consortium of ARCs will work across the NIHR ARC network in England as part of the NIHR National Priority Area research programme. The work is funded by an award of £1.8 million until September 2023.
Professor Helen Roberts, from NIHR ARC Wessex leads the consortium of ARCs behind the research:
"This is a fantastic opportunity to deliver research that will make a real difference to older people and their families. The research teams leading the three projects have spent many years collecting evidence to show that their interventions work. Now we can see how best to use these interventions in a range of real life situations across different parts of the country"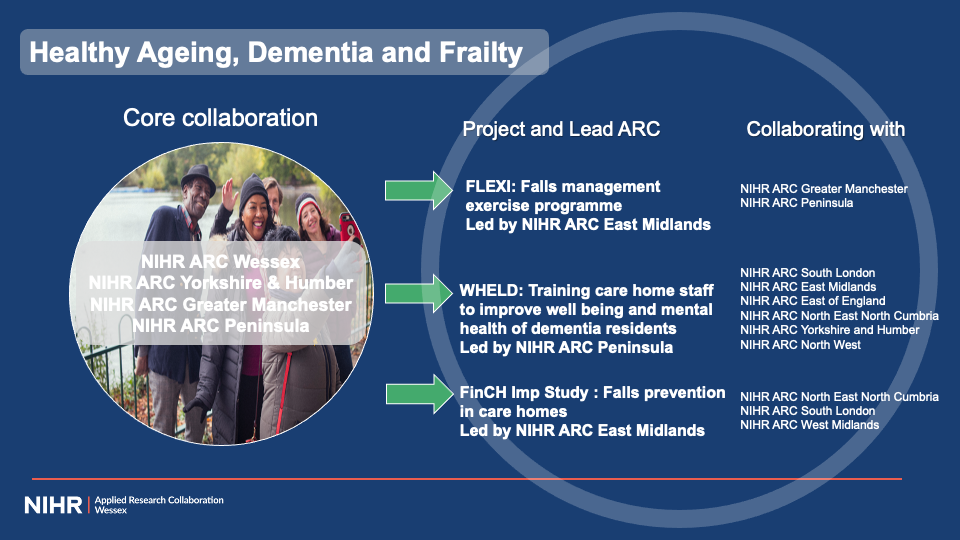 The three projects are:
For further information please contact:
Alison Littlewood (Healthy Ageing Programme Manager)