Putting the voices of those most in need at the heart of research to tackle health and care inequalities. A blog by Sue Wood.
The recent commitments from Northern Leaders at the Convention of the North, highlights that tackling health and care inequalities is a key priority for the North of England and Greater Manchester, with a need to find real solutions to the challenges of levelling up the North with other areas of England and uniting the North to unlock its potential. A series of recent reports shines a spotlight on the disproportionate impact that the COVID-19 pandemic has had on the health and care inequalities that are deeply entrenched within the North of England.[1][2][3][4][5]
Research has a vital role to play in improving health and care for all, getting to the root causes of health and care inequalities and the needs of diverse communities, providing the evidence of what works to address these unfair and avoidable differences. However, we also know that those most vulnerable in our communitie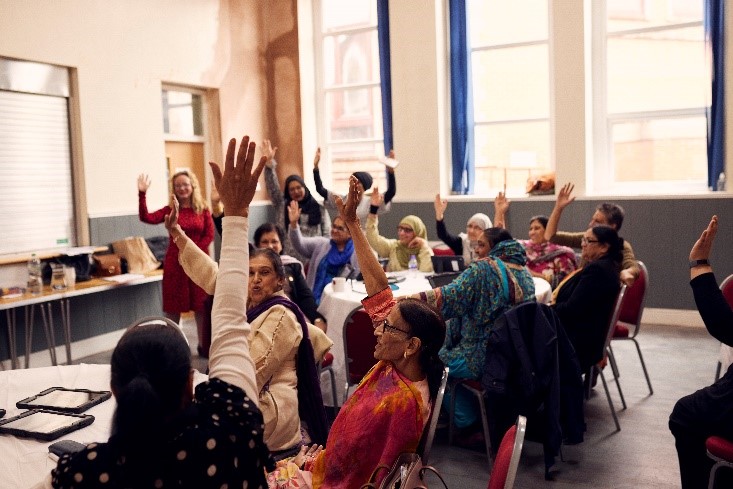 s are disproportionately affected yet under represented in research studies.
Never has it been more important to do research 'with' not 'for' or 'about' the people, it is designed to help with health and care policy needing to be driven by the experiences of communities.
You do not have to look too hard to find plenty of references to 'a strong sense of community' across the localities and neighbourhoods of Greater Manchester. However, the experiences of our diverse communities vary and valuing their differences is crucial to involve and engage with all communities, especially marginalised and those that are seldom heard. If we are to create equal involvement opportunities for all we need to understand the value and needs of these communities and create better ways of enabling their voices to be heard.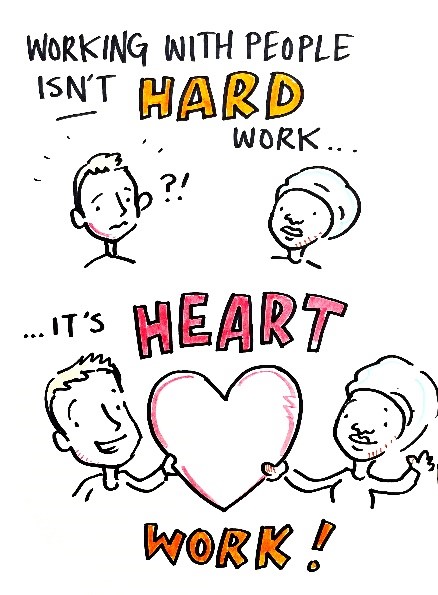 The Greater Manchester Public and Community Involvement Engagement Forum was set up in March 2020 with a vision of being a safe space for those with a passion to improve the way research organisations work together with colleagues from the Voluntary, Charity and Social Enterprise (VCSE) sector and members of the public, bringing people together to share best practices, opportunities and to form connections of mutual benefit.
From the Forum has grown some exciting and innovative partnerships but also a growing recognition that there is much more that needs to be done to build trust and sustain mutually beneficial relationships between research organisations and the communities of Greater Manchester to ensure that the research we do is truly representative of our diverse population.
In March 2022 National Institute for Health and Care Research (NIHR) Applied Research Collaboration Greater Manchester (ARC-GM) and the NIHR Greater Manchester Patient Translational Research Centre (GM PSTRC), with VCSE colleagues held a workshop showcasing some of the research that had taken place during the pandemic to spotlight the inequalities faced by the communities of Greater Manchester and uncover the potential for health and care research to make a difference for the future.
The vibrant discussion in the room helped to highlight some of the challenges we face and need to urgently address to ensure those communities most in need can engage with researchers and be part of the discussion about their needs.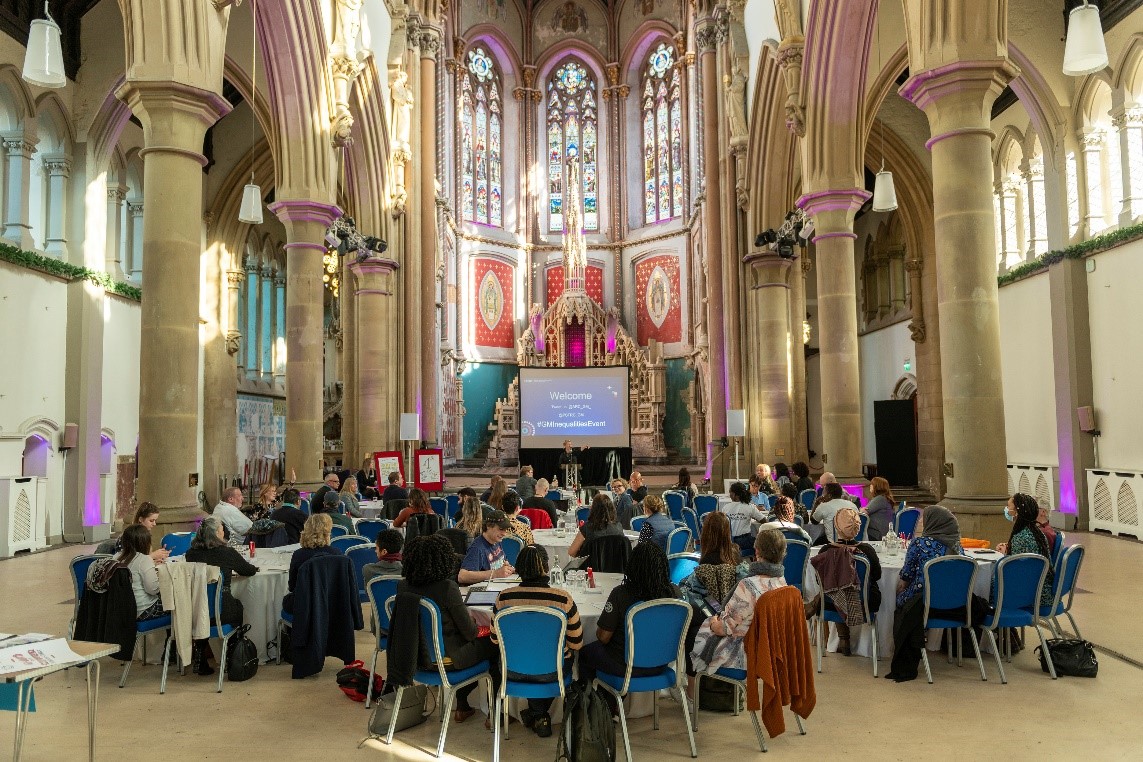 The key messages from the workshop were:
The allocation of resources are key to tackling inequalities - the VCSE sector need resources and investment to support communities trapped in poverty. More needs to be done by larger organisations to reach out and make resources available to smaller groups and upskill community groups to work together.
Effective partnerships need time and recognition of organisational strengths – partnerships that are built on shared values and evident through trusted interactions can create long-term relationships. The VCSE sector has extensive expertise in working on the ground with people facing the greatest needs and research organisations have much to learn from them on effective and culturally sensitive approaches.
Communication in accessible formats is needed – research needs to be accessible and understandable for everyone. There is lack of awareness about the research being undertaken in communities with poorly designed resources that are not accessible due to the language used or the format in which the are delivered.
To understand and tackle inequalities researchers need to go to the heart of communities – culturally appropriate events/workshops are needed to engage with communities in a meaningful way with communities part of the design of the process. Together we need to particularly acknowledge and understand variation within regions and local areas to understand how inequalities are impacting neighbourhoods. Capturing the full extent of this diversity will help finds solutions that work for the whole community.
A full report from the workshop is available here.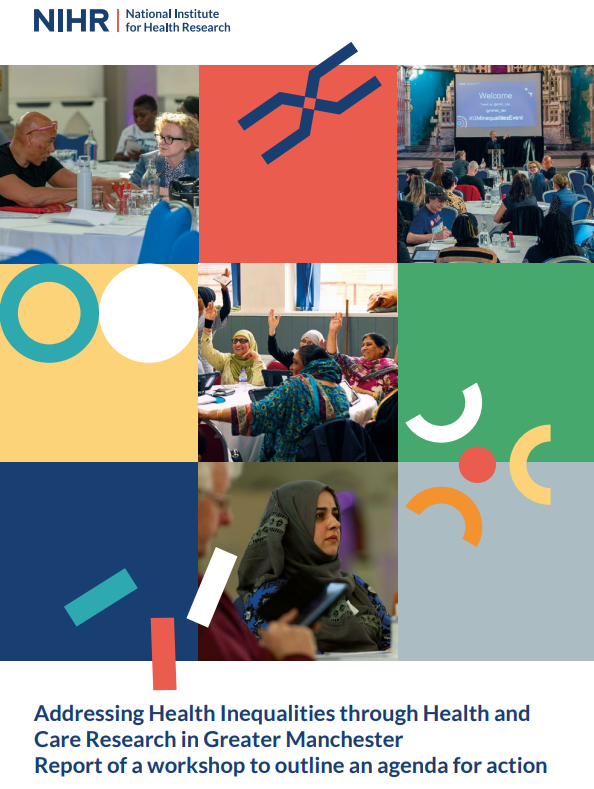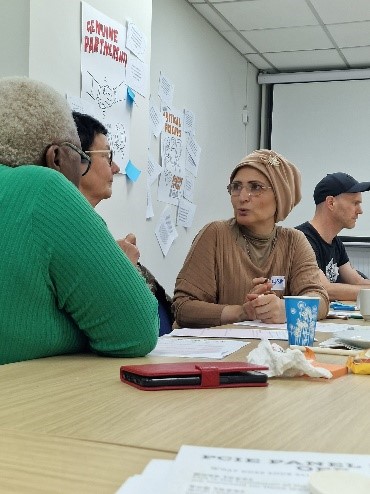 The research organisations in Greater Manchester have committed to work together to strengthen the way we work to create sustainable networks with VCSE colleagues and community groups that have mutual benefit and will support the participation of those currently mostly excluded from taking part in health and care research.
To support this, Greater Manchester has been awarded funding by NHS England to further develop understanding of how research engagement networks within Integrated Care Systems can be created, enhanced and sustained. Information on this programme is available here.
The aim being to:-
Co-produce improved approaches for creative engagement and communication in partnership with VCSE organisations to build trust with communities currently more excluded from research.
Develop an improved network wide system for monitoring and evaluating diverse and inclusive involvement and participation in research within specific areas and communities in our region where inequalities are most evident.
Only in working together will we be able to put the voices of those most in need at the heart of our research to tackle health and care inequalities.